Why?
An estimated 3.3 million Canadians experience incontinence, or difficulty with bladder control, including up to 55 percent of all women and 15 percent of men over the age of 55.

An estimated 10-15% of North American women suffer from dyspareunia (pain during intercourse).

80% of the population experience low back pain sometime during their life.

Research has shown that treatment by a therapist treating pelvic floor problems is more effective than verbal instructions alone of pelvic floor exercises (Kegels). Infact, half of the women who receive such instructions, including patients who believe they have mastered the technique, have been shown to be ineffective in recruiting these muscles properly.

Studies have shown referral to a physiotherapist trained in pelvic floor rehabilitation to be effective.
Research has shown that verbal instruction alone ofpelvic floor exercises (Kegels) is not as effective astreatment by a therapist treating pelvic floorproblems.

Studies have shown a link to incontinence andpelvic floor dysfunction.

Studies have revealed that pelvic floor exercisesare effective for treating postpartum incontinence.

It will assist with effectively recruiting thesemuscles to alleviate the pelvic problems.

Yolanda brings her extensive 14 years of experienceas a physiotherapist, Pilates/Yoga and Fitnessinstructor to the treatment of pelvic floordysfunction and other musculoskeletal problems.
"Yolates" offers a mind and body approach to therapy.

The unique fusion of Pilates and Yoga principles offers a program to promote a healthy body and mind.

The Pilates approach to exercise emphasizes postural and core stability in conjunction with flexibility and mind and body awareness.

Yoga also focuses on proper body alignment, joint stability and strength along with overall agility and flexibility.

Yoga enhances further balance by stimulating, relaxing, rejuvenating and detoxifying the organs and systems of the body.

Yoga and Pilates reduces tension and stress in the body and induces relaxation.
Indication for Treatment
Individuals with:

Pelvic floor weakness, hypotonicity (low tone)

Urinary incontinence and other bladder problems

Prolapses (ie. Pelvic organs such as the bladder, rectum or uterus drops down)

Pelvic pain and pain with sexual intercourse

Rectal problems

Women's health issues (ie. pre and post-natal problems)

Urinary, bowel and GI system disorders

Men's health issues (ie: prostate, urinary, bladder and anorectal disorders)
Individuals with:

Pelvic dysfunctions and disorders

Back, neck, shoulder or leg/hip pain

Poor posture, tension and stress, and/or muscle imbalance

Orthopedic or sports related injuries

Weak abdominals, decreased core stability, weak pelvic floor or decreased flexibility/balance

General decreased overall fitness and deconditioning

Residual pain and/or weakness from a chronic injury

Post motor vehicle accidents (MVA)
Services
Services offered:

Biofeedback and other facilitatory techniques

A comprehensive initial assessment

Pelvic floor muscle and bladder retraining

Manual therapy techniques

Myofascial and trigger point release techniques

Education (ie. bladder and bowel retraining, functional pelvic floor, core and fitness

Electrical stimulation

Pain relieving techniques and modalities

Yoga, Pilates and TRX Training: Small group virtual and in person classes

Customized individual rehabilitation and core stabilization program which can include Yoga and Pilates

TRX and other stabilization principles

Dietary and fitness advice

Visceral mobilization and manipulation techniques
About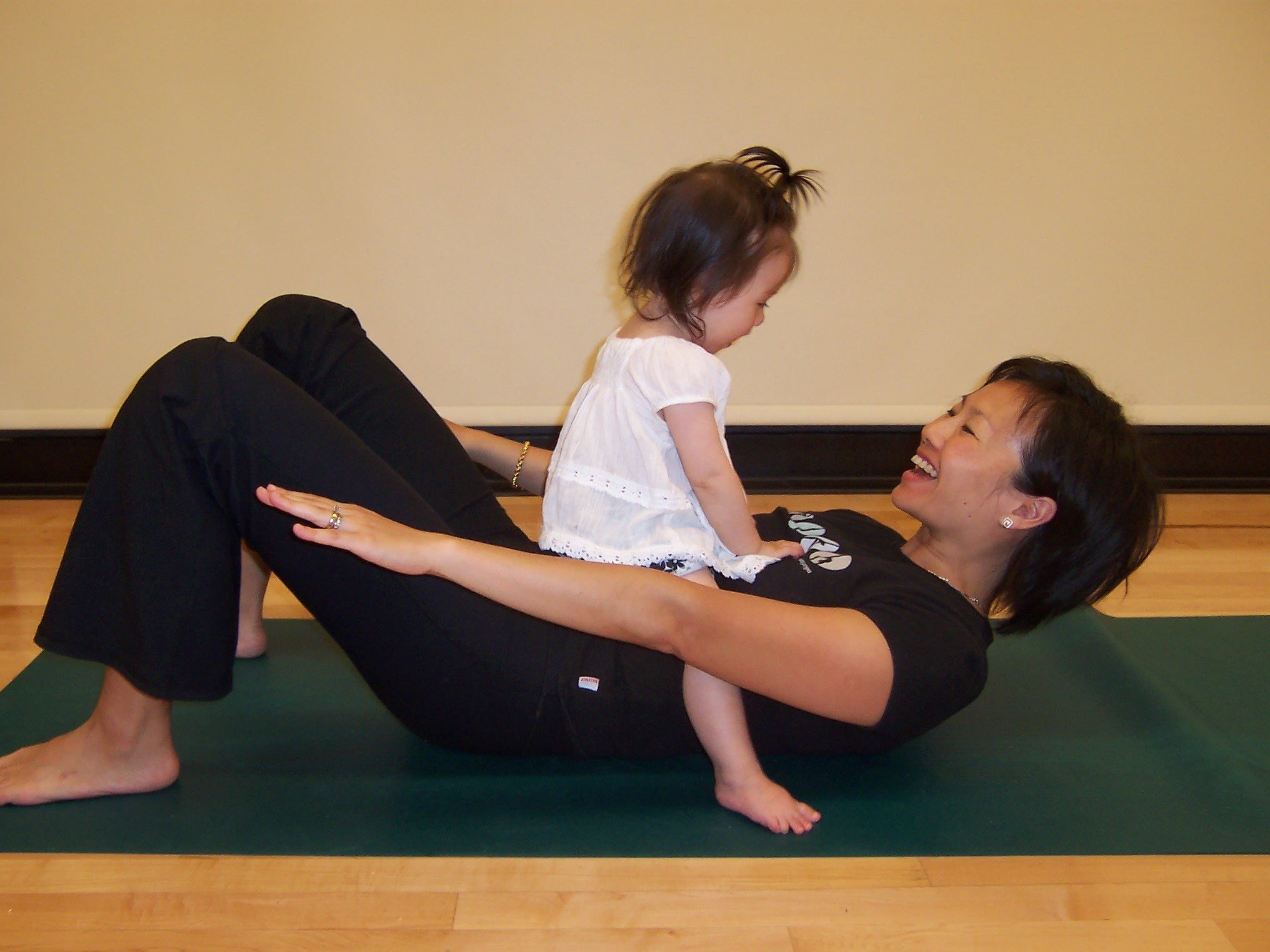 About Yolanda
Yolanda Tsang received her Bachelor of Science in Physiotherapy (Bsc.PT) from Queen's University in 1993. She also has additional certifications in Pilates, Yoga group exercise, TRX training, Pilates and fitness instruction. In 2002, she developed a rehabilitation program blending the principles from Pilates and Yoga – 'Yolates'. This treatment uses a repertoire of exercise sequences to balance the mind and the body. Her involvement in Women's Health led her to further pursuits in postgraduate education to treat pelvic floor dysfunction. Integrating these treatment skills with her Yolates and fitness experience offers comprehensive holistic care for individuals with pelvic floor dysfunction, general deconditioning and other musculoskeletal problems.
Her past experience as a physiotherapist is also very diverse and broad including: managing a rehabilitation facility in New Zealand; working in an alternative therapy clinic in South Africa; traveling with professional sports teams; working in orthopaedic and sports medicine clinics; acting as a consultant in long term care facilities; providing independent assessments for motor vehicle accident injuries and completing overseas courses with internationally renowned physiotherapists.
She is also very involved with facilitating Yolates classes that have included 'Mom and Baby' and 'Prenatal' classes. As a strong advocate for holistic wellness and Women's Health, Yolanda has also appeared as a speaker at various events and workshops. She has just launched her new education and fitness based Women's Health channel Yo and Vaginia - knowing, caring and loving your 'lady parts' as part of her journey to debunk the myths of what's normal and what's not, and to erase the taboo about talking about Women's Health issues and 'lady parts'. Her passion is to educate and provide services to the community on Women's Health issues, pelvic floor dysfunction and treatment, general overall fitness and to promote health and wellness.
Schedule
Due to Covid-19, please contact Yolanda directly for any scheduling enquiries.
Contact
Yolanda Tsang PT, Bsc.PT
57 Glengarry Road
Ottawa ON
K1S 0L4